Saint of the Healing Heart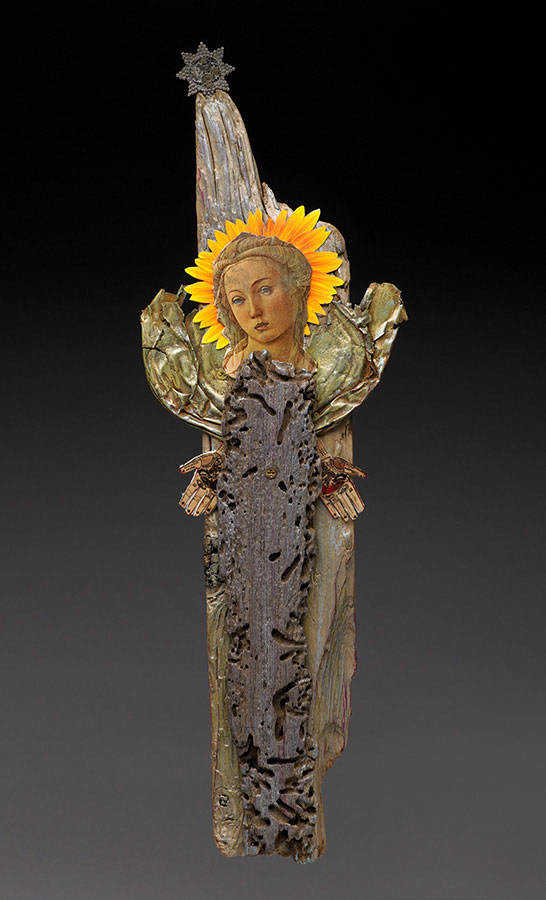 Angel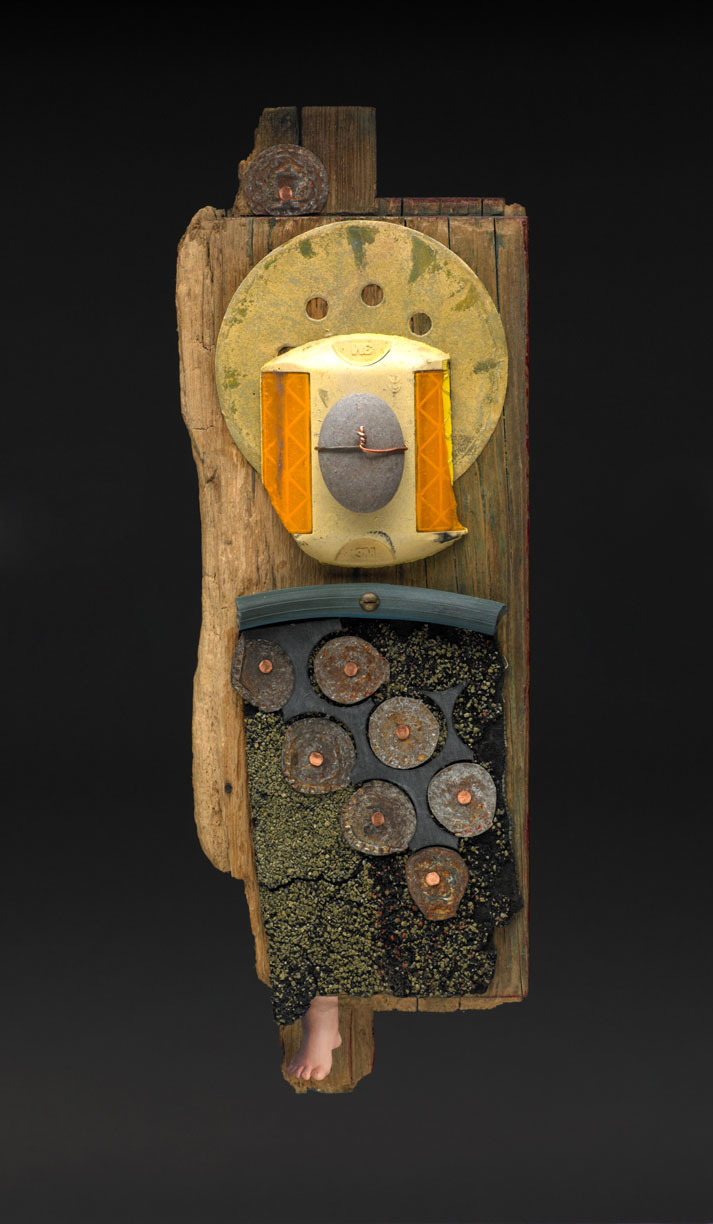 Crusader 2
by Lorelei Esser - 2012
Mixed Media
Seeker of the Holy Grail
Crusader 3, An Interesting Life
by Lorelei Esser - 2012
Mixed Media
The adventurer on the road to commerce
Crusader 1
by Lorelei Esser - 2012
Mixed Media
The Soldier
Cuckoo Saint Francis
Hexe
by Lorelei Esser - 2013
Mixed Media
HEXE is the German word for witch. She is the Crone, the grandmother, the scary old woman who lives in the neighborhood. She is old age and wisdom. Her strength is her large healing hands and her well worked shoulders built from the blade of a hoe that has delved in the earth, planting seed and tending to growth. Her fairy wings are fashioned from soles of shoes that move her through time. Her apron is a fossilized seashell. Her spirit has been active since before the time of humans.
Man Halo
Queen of the World
by Lorelei Esser - 2010
Mixed Media
She keeps her agitation in a spin under her skirt. Three paths are represented in the flow of her body: the material world, the accouterments of a life filled with distractions; the human world, featuring Adam and Eve issuing forth all of humanity in the wake of the serpent; and the natural world, our earthly inheritance. The queen rises above it all in wild regalia ever blooming her brilliance.
Saint Christopher
by Lorelei Esser - 2013
Mixed Media
Traditionally he is the Saint of safe travel, the little plastic guy on the dashboard of the Catholic identified car. Our Saint has a bigger job---more trains, and boats, and planes than ever before imagined, more people wishing to travel into the unknown, more peoples wishing to travel outside their villages, more people wanting to catch up to the pace of the world and then to drive away from it. Our Saint Christopher incorporates many forms of moving along. He rests on a skateboard. His soul is compromised by the license plate. He is built from car parts and planes, a travel shrine to the car and beyond to the Sputnik. The acorn is his strength and testament to growth and change.
Saint Francis
by Lorelei Esser - 2013
Mixed Media
When I first found this piece of wood, I knew what it represented to me. I saw a being that takes the step, he moves into our world, arms outstretched in a blessing of Peace. The metal background is the cloistered place that he has wandered out of. The birds are safe; they adore and adorn him. He is one of them, one of us, bridging the space between two worlds through Love.
Saint Adrift
by Lorelei Esser - 2010
Mixed Media
He seeks purpose, the way, through a random rummage of evidence from the material world. He stays adrift, through the lure of stuff, unwilling to let go. His heart, an acorn, grows.
Wailing Angel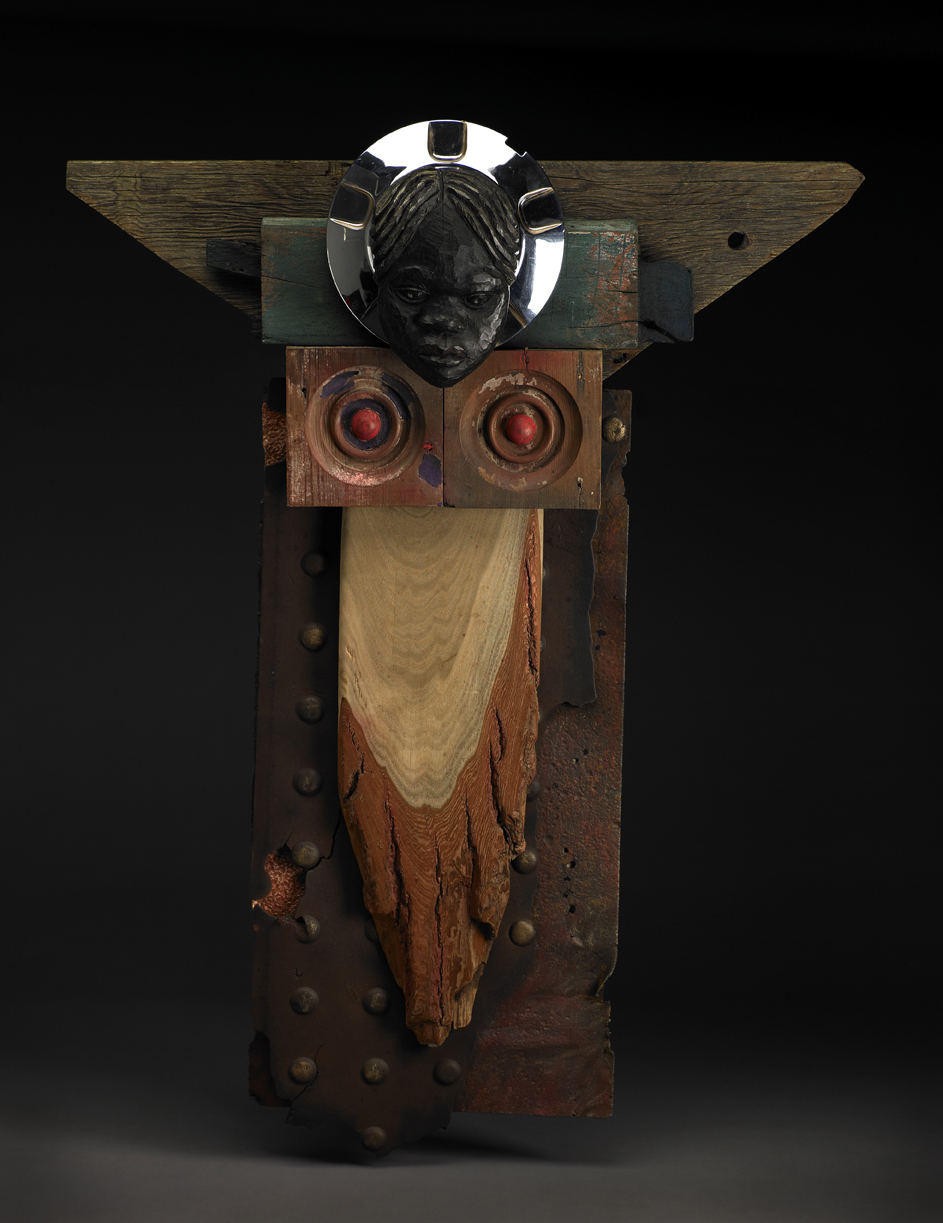 Woman Halo